Eikund – 12th may 2021
NYCxDESIGN Awards Finalist
Fluffy by Eikund is a 2021 NYCxDESIGN Awards Finalist in the Iconic Products category.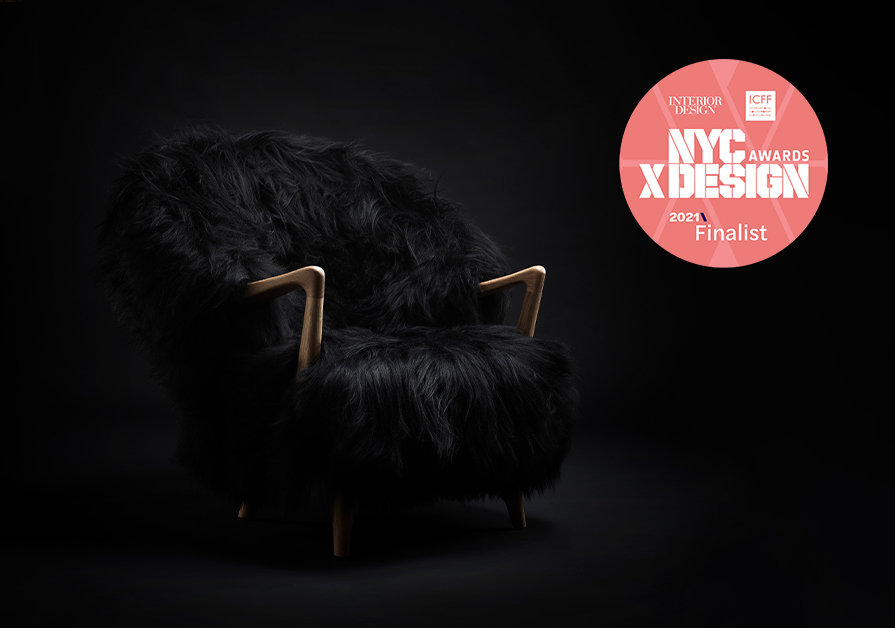 The Fluffy lounge chair by Fredrik A. Kayser is characterized by its ultra-soft upholstery in Norwegian sheepskin, and its sloping armrests leaning you into a welcoming embrace. Kayser graduated from National Academy of Craft and Art Industry back in 1945 and the lounge chair was designed while being employed at Rastad & Relling Tegnekontor. It combines both art and function into one, a floating cloud of fluffiness that builds on the past for the present. This is a brand-new species that can live anywhere! Designed in 1954.
"We are very excited to be in the finals with Fluffy, which is our statement piece"

– Jørgen Tengesdal, CEO Eikund
About the awards
The NYCxDESIGN Awards honors outstanding products and projects in categories that span major areas of design, from architecture to interiors, from products to accessories. Submissions are reviewed by a jury of design industry leaders. Winners and honorees represent the very best design talent and are recognized during a virtual ceremony hosted by Cindy Allen.
Now in its sixth year, the NYCxDESIGN Awards is the highlight of NYCxDESIGN.
NYCxDESIGN is a non-profit organization that nurtures, supports, and provides opportunities for NYC's design sector by organizing and coordinating exceptional year-round activations, amplifying the voices of design through storytelling and promotion, and providing annual grants for local talent and businesses that make New York the design capital of the world. This year on May 13–18, NYCxDESIGN will present a series of Design Days showcasing NYC's talented design community. The program will feature primarily virtual events, including the NYCxDESIGN Awards, as well as outdoor experiences, select tours, and other small gatherings.
The NYCxDESIGN Awards are presented by Interior Design, the global, industry-leading design publication, website and events company serving the interior design, architectural and facility management audiences, for over 85 years.
The Award ceremony will be held on our national holiday, May 17th.
The ceremony will live-stream on Interior Design's Facebook page.